Scott Morrison is failing to keep our most vulnerable community members safe!

Our vulnerable older Australians in aged care are being forgotten by this Government
More than 6500 individual reports about understaffing and unsafe conditions facing aged care residents have been handed to the aged care safety regulator today!
The reports from United Workers Union's whistleblower website Aged Care Watch have identified system-wide shortages and serious impacts on aged care resident safety as workers document unfilled shifts and understaffing.
The reports include thousands of accounts of aged care residents suffering because there are not enough staff to look after them.
2300 reports name "distressed resident" as a result of lack of care
1900 reports name "resident left soiled for an extended period" as a result of lack of care
600 reports name "resident injury" as a result of a lack of care
2900 reports name "stressed staff member" as a result of unfilled shifts or understaffing
The reports identify 2700 cases of understaffing, more than 10,000 unfilled shifts and 800 personal accounts of incidents due to a lack of care time for residents – and we know this is the tip of the iceberg.
These reports come from every state of Australia and show the inside story of the aged care crisis that continues to impact the care of aged care residents.
The accounts from inside aged care facilities make horrifying reading.
Aged care workers report incontinence pads have not been changed for 16 hours, wounds are not able to be treated, and weight loss by residents because they are not being helped with their food – and that is just one report.
"I work in hospitality and I spend a large percentage of my shift running from the dining hall/kitchen to answer cries for help from the residents. There might be two to three [carers] on one wing for up to 48 residents. They can't leave someone in a bath or on a toilet while they go to attend to someone else. I have found residents on the floor and no one about to come help them."
"Residents not getting showered, maggots in resident's wounds. Residents not getting adequate food, getting served Spaghetti out of a can all the time. Cooks have to feed residents."
"Understaffed to the max. Residents often given below standard quality meals due to "budget". PCAs are often expected to work in the kitchen with NO training or qualification. Nurse's expected to do paperwork as priority over providing care to residents. Many issues with wound care not being attended to correctly. Lifestyle activities are very bland due to being given a poor budget. Everything is about budget. The residents and staff deserve so much better."
"I am a hospitality assistant currently seeking help from the EAP for burnout, stress and anxiety due to uncertainty of staffing. Many hospitality shifts are unfilled, training is absolutely minimal for new staff, agency is regularly unavailable. My colleague recently was hurt due to working above and beyond an acceptable work load to compensate. My mental health has suffered terribly and I'm now at breaking point. I have an inbox full of requests to fill shifts. The correct food is often missing or unavailable leaving us to seek alternatives at the last minute. Residents often don't get what they request. Care staff vent frustration and anger on kitchen staff for not preparing what should have been organised on a different shift. Stock levels are often falling short. Dietary requirements are often missed. Standards are slipping with cleaning yet it seems we always get notification of audits and it's fixed up before each inspection. I am about to take leave on mental health grounds and either give notice to leave or switch to casual to take a long break."
"Chronic understaffing and huge turnover of staff especially in management leave the residents suffering with soiled continence aids for over 16 hours, wounds not attended to, weight loss due staff not having the time to assist in feeding the many residents that require this assistance. Overall staff morale is very low, care staff work incredibly hard trying to do the job of multiple workers and we are burnt out, underpaid and under appreciated. The residents pay a fortune to come to [facility name redacted] and we can barely meet their basic needs."
"Family member has lost weight no help with eating, showering (always smells) - I shower them when I visit. Boredom, left to sit in a chair in their room. Asked a carer to help me move family member into the bed, told she was the only one on the floor at that time (37 patients!!!)."
These reports have been handed over to the regulator to examine the outright issues of neglect that have been exposed, and to consider the system-wide failure these reports demonstrate.
These first-hand accounts from aged care workers provide extensive further evidence of the massive failure of the Federal Government in residential aged care.
The failures by the Federal Government also show why thousands of aged care workers feel they have no option but to go on strike and hold their employers accountable.
a responsible government would act to keep older australians in aged care safe
Scott Morrison's Liberal Government is responsible for the aged care crisis across Australia and for allowing the neglect of our oldest and most vulnerable community members to continue. 
We demand Scott Morrison prioritises fixing the aged care crisis if elected! 
We urgently need:
An investment in a secure, respected and well-paid workforce to fix the understaffing crisis!
A Care-time guarantee to allow workers enough time to give older Australians the safety, dignity and respect they deserve!
Transparency and regulation of aged care funding to ensure it goes to care, not profits! 
the aged care crisis on a local level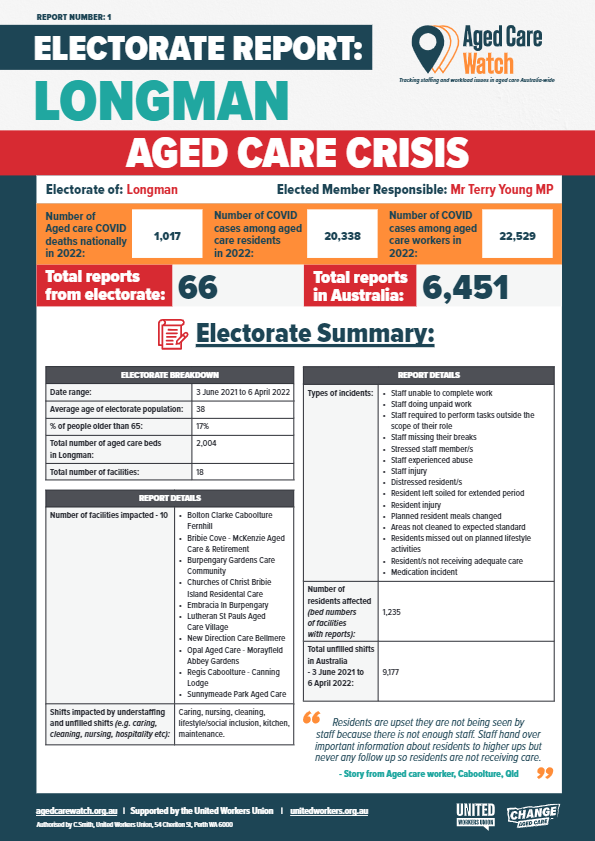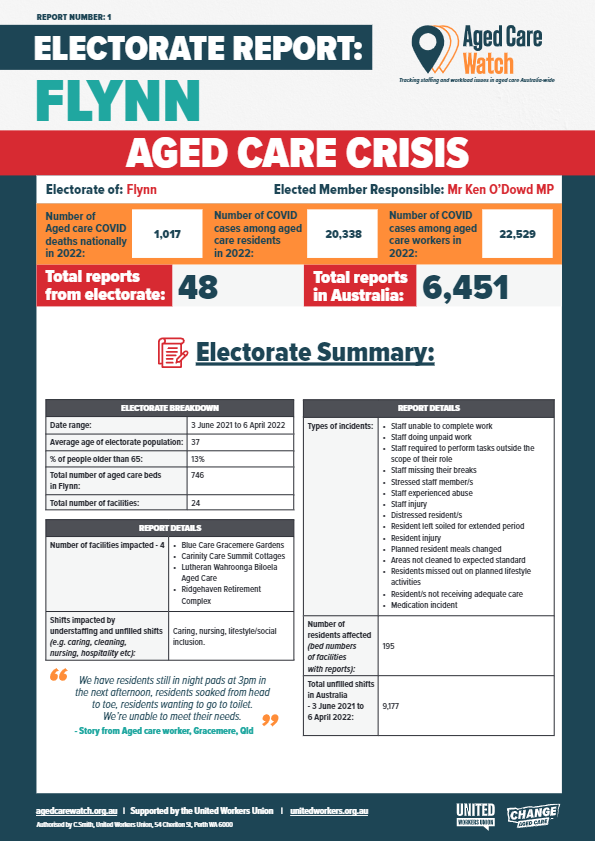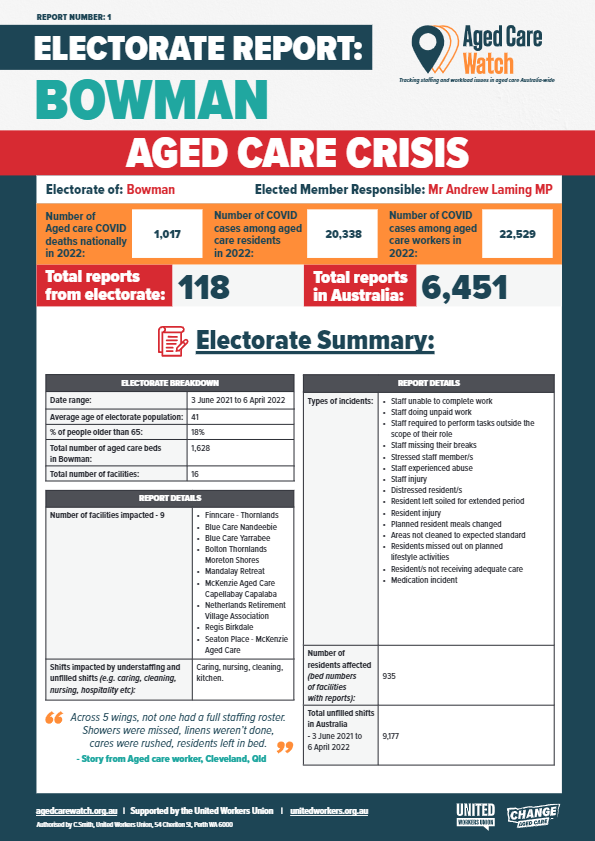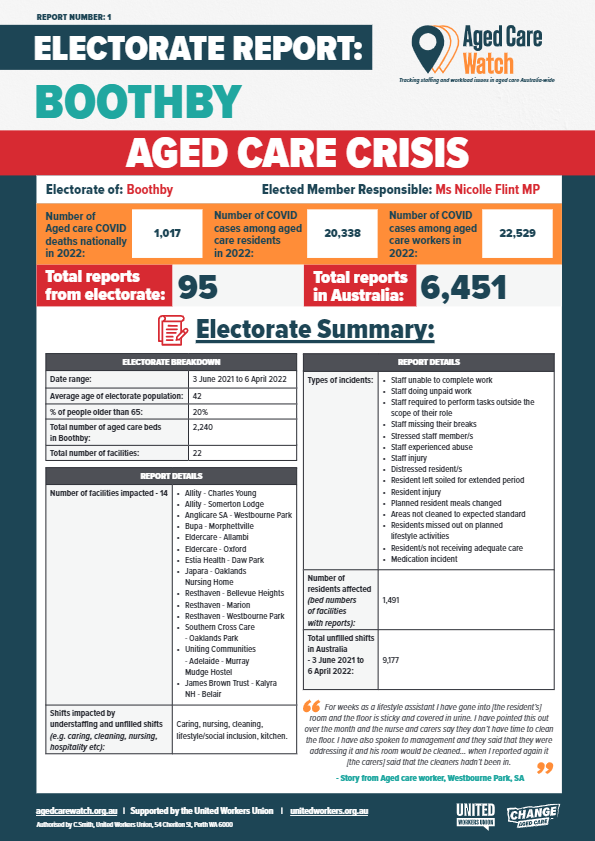 The chronic understaffing in aged care endangers the lives of our most vulnerable older Australians.
Scott Morrison has proven his government is neither interested nor capable of fixing the aged care crisis.  
As voters, we have the chance to hold him accountable for the neglect of aged care at the upcoming federal election by voting him out.