Mental Health can't wait



we need action now!
this world mental health day, we demand mental health action for aged care workers and older australians!
With the coronavirus pandemic and the worsening understaffing crisis in aged care, the demands on Australia's aged care workforce have never been greater. 
From unreasonable workloads, long or irregular working hours, absence of worker voice or control, and bullying and harassment – aged care workers are pushed to their breaking point and have been experiencing enormous amounts of work-related stress and fatigue not for months, but years.
Mental health is not only the fastest growing challenge to the safety of working people in their workplaces, but especially those in frontline healthcare are under immense pressure and dealing with significant levels of mental ill-health (Australian Unions, 2021).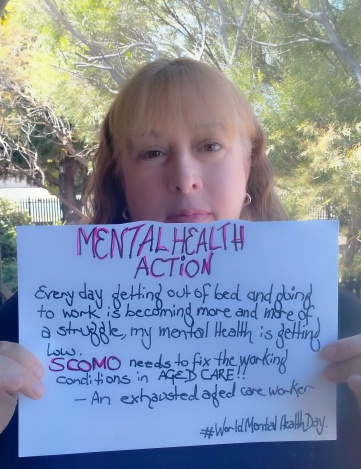 1,226 reports of unpaid overtime, 2,089 reports of missed breaks, 1,381 reports of staff experiencing abuse, 2,927 reports of stressed staff, and 1,983 reports of distressed resident/s
With a direct link between a healthy workforce and quality care, the mental health and wellbeing of older Australians in aged care has increasingly been neglected due to lack of care time. Visitor restrictions have also increased isolation of residents from families.
This World Mental Health Day, we're sharing aged care workers' stories of psychological pain, disturbing amounts of stress and unsafe working environments. We demand the Government finally addresses the crisis and unacceptable working conditions in aged care impacting on the mental health and wellbeing of workers and older Australians! 
"Staff suffering psychological and physical pain every day. The enormous amount of responsibility and stress on staff has become to much to bear. Cares have been pushed to their limits to do more work in a very little time frame. Quite disturbing amounts of stress we have been putting through every single day. A staff was sent home earlier one day feeling unwell with high blood pressure - unsafe working environments. It's time aged care management and the Morrison government acknowledged aged care staff exceptional contributions to our vulnerable Australians. We're all humans and we all grow old one day."
"I was under unbearable stress, answering non-stop call bells, running frantically among 3 separate houses to provide care, put up with abuse from residents & families due to long-delayed care needs, I felt guilty & upset at the same time. Consequently, these occasions had severely affected my health mentally and physically. During this time period, I developed muscle aches, back pain, stress, anxiety and depression. At the end, I had enough, fought my way out and eventually I left. I was heart-broken & relieved at the same time."
"The dear carers are run off their feet. We as family members have talked amongst ourselves on how truly desperate these poor workers are stressed for more time and knowing the wage they get is absolute slavery. How on earth does one carer get up my Mum and 8 others in two hours including showered, dried, dressed, and all care duties. The girls I have seen, I just want to hug them. They are so exhausted. However I hear they ARE NOT understaffed.. this makes me so angry and upset."
"Staff are constantly exhausted due to the extremely heavy workloads and it is becoming quite impossible to give the care to each individual that is required. More funding for staff should give the residents more time for their care needs to be met and the staff should be getting paid how they deserve to be getting paid instead of the extremely low crappy rates they are having to deal with. This will take a load of stress off the staff that are working harder than they should have to just to be able to put a roof over their heads and feed themselves. Less stress across the board means a happier place for everyone."
"I do not work in aged care, but my friend does and is constantly coming home upset (crying), stressed and angry due to management lacking respect and initiative towards staff. Something needs to be done ASAP."
"Each day I come to work is a nightmare. If I didn't love and care about these residents I would have left a long time ago. I am treated so badly. Yelled at constantly and it reflects the way I am able to give care. I have to rush residents every time. I cannot sit and be with and care for them properly. They are crying out for us to help them and we just can't. We are forced to just give washes and leave others soiled for hours. And you do not get a break. If you do you're too exhausted, you can't even eat. I feel terrible but nothing will change."
"If you work out the amount of staff that is provided to the residents your time frame in a morning shift is 3.45 minutes per resident. Which is why quality care is not provided. Residents mental health is also a big issue not only for residents but the staff as well. Most aged care workers are overstressed and underpaid for the job they have to do. These are people's lives and they seem to be forgotten about. Not enough one-on-one time provided. Especially through lockdowns that seem to be never ending. The mental health state of the residents is extremely low."
"Care staff are at the heart of emotional and physical exhaustion and burn out in trying to cope with the very challenging situation as overwhelming demands, conflict and lack of support is happening daily with no nurses, no senior leadership on the floor and lack of care staff. Our sense of wellbeing and capacity to care for ourselves and others is diminished. Our senior management fails to advocate for the staff and residents. The prospect of having to leave a job I once loved to protect my happiness is weighing heavily of these circumstances and has left me emotionally exhausted."
"Myself and many other good carers are now suffering anxiety & depression, or are leaving the industry. How dare you forget about us, we take care of your family members when you can't. Ask a carer for help we will say "No Problem", now we are asking you for help, what will you say?"
A secure, respected, well-paid job with time to care is the best prevention
While more needs to be done to ensure the workforce receives appropriate mental health support, preventative action is what's really needed. The best psychological protection for aged care workers is a secure, well-paid job with the time to care. Currently, workers are poorly paid, juggling multiple casual jobs and have little job security with this pressure increasingly taking a toll on workers' mental health. 
A responsible Government would act to keep both aged care workers and older Australians in aged care safe. 
This World Mental Health Day, we demand Scott Morrison to finally implement changes to aged care and:
address the understaffing crisis and regulate funding so it goes to care, not profits
implement a care-time guarantee to allow workers enough time to give older Australians the safety, dignity and respect they deserve
build a secure workforce in which workers have enough hours to live on
value the hard work and skills of aged care workers by providing a decent wage & recognition of skills
ensure aged care workers are respected in the workplace 
The mental health of aged care workers and older Australians should be a priority to ensure the short- and long-term future of the aged care sector, by attracting and retaining workers. We need to take care of the workers that take care of us when we age. 
How Can you show support?
Throughout World Mental Health Day, we are sharing quotes of aged care workers, older Australians in aged care and their families about their mental health struggles as a result of the aged care crisis. Read and re-tweet them here!
Sign your support for our campaign to change aged care here! 
Help put a spotlight on the wellbeing of aged care workers and older Australians in aged care – share this blog post on Facebook.