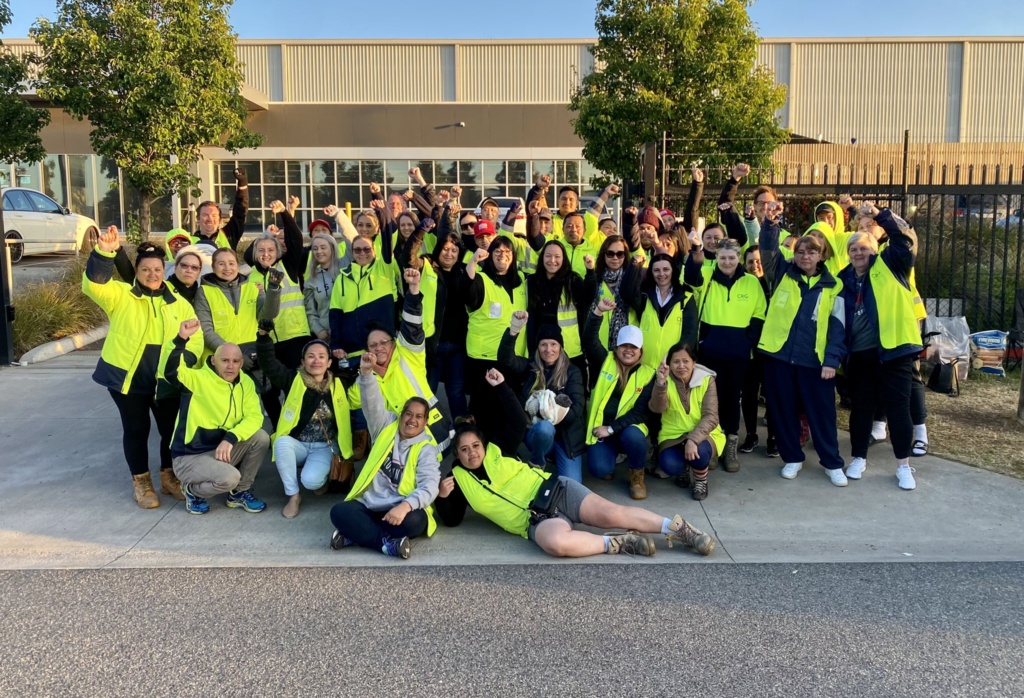 After almost two weeks on strike, workers at Country Road Group will return to work today after securing an agreement that includes a substantial pay rise.
The mainly women workers from the Truganina warehouse have been highlighting their fight through a series of actions, including store and Melbourne Fashion Week protests, since they began striking on Thursday 11 November.
Workers met this morning to vote in favour of the new agreement, which includes a pay rise of 13.3 percent over four years, including back pay to the expiry of the former agreement to May 2021.
United Workers Union (UWU) members were also able to cement 20 new permanent positions, which will lift the permanency level to around 75 percent. The agreement will also include equal site rates for agency casual workers, and new union rights and recognition.
UWU National Secretary Tim Kennedy said the workers have displayed enormous courage to fight for a living wage and secure jobs for themselves and their fellow workers.
"These are workers who have been stuck just above the minimum wage, and who have sought to collectively bargain for a living wage and secure jobs. They have been on strike for twelve days and have now won wage increases delivering above three percent per year," Kennedy said.
"This is an important win for these workers, and it has been achieved despite the broken enterprise bargaining laws. The current enterprise bargaining system has resulted in wage stagnation and insecure work. The current laws are used to restrict workers from effectively bargaining for a fair share of profits and productivity. The current laws have effectively killed off productivity in the economy.
"These workers have prevailed despite these laws and have provided much needed hope to workers to push for better wage outcomes in 2022. It serves as a reminder of the benefits of being in a union."
The new agreement was endorsed early this morning by way of a democratic vote at a union mass meeting of the workers.
ENDS
Media Contact: 1300 898 633, [email protected]