Your union is organising around important worker issues at casinos across the country.
You can view updates for each casino below.
Crown Melbourne
Union members at Crown Mlebourne have
overwhelmingly endorsed two  new enterprise agreements (Crown-wide and Area Managers) which include key wins such as:
5% increase on wages and allowances (+ back pay)
Increased weekend allowances
Bringing many specialist roles under EA coverage
Removal of all trainee, introductory and junior rates
Increased personal leave + paid pandemic leave
Review of current contractors +
Agency casuals to paid no less than as EA casuals
Better union rights + union representation
Well done to union bargaining reps for negotiating this deal!
Crown Perth
Union members have won a new 12-month EBA at Crown Perth!
This EA includes fantastic improvements to pay and conditions such as:
5% increase on wages & allowances, backdated to 1st October 2022
9.5% increase to night allowance – now $2.50/hr for Monday-Friday 7pm to 7am
5 days paid pandemic leave which can be accessed twice over the life of this agreement
Review of current contractors + labour-hire agency casuals
2 union meetings per year and enhanced delegate rights
This outcome was achieved by the proud union members at Crown Perth and their awesome bargaining representatives.
The Star Gold Coast
UWU casino members at Star Gold Coast have won big in their new EA!
Members overwhelmingly voted yes to a new set of wages and entitlements including:
Pay rises of 4%, 3.5% and 3.5% over the 3 years of the agreement (+ backpay to 1 July 2022)
A one-off payment of $1500 to help with the rising cost of living
Paid rest break entitlements
Guaranteed free parking until July 2023
5th week of annual leave for all permanent workers
Classification improvements & full-time conversion
and much more!
Members and delegates have done an amazing job to demonstrate collective power and push for a better deal through 6 months of challenging bargaining.
Congratulations

to members at Star Gold Coast on their amazing win!
SkyCity Adelaide
The new EBA at SkyCity has been approved by the Fair Work Commission, delivering significant improvements to wages and conditions for SkyCity workers.
United Workers Union members won:
No Reduction in Current Conditions
Wage Increases

2.5% effective October 1 2021
2.5% effective October 1 2022
3% effective October 1 2023

Introduction of a new Full Time conversion clause guaranteeing Part Time workers the right to convert to Full Time if they average 36 hours per week for 12 months
Table Games Area Managers & Senior Surveillance Operators now covered under the EBA
Improved Split Shift rights
and much more!
The Star Brisbane (Treasury & Queens Wharf)
Members at The Star Brisbane have secure a new EBA with a number of improvements to pay & conditions including:
3% annual wage increase
Additional wage increases for Table Games ("pay parity" with the Star Gold Coast)
Better classifications/levels and more higher-paid positions for Food & Bev

 

Job security protections and improvements:

Commitment not to contract out any "core" casino operations: gaming, food & bev, cleaning, security, hotels, etc.
Commitment to engage direct employees before contractors are used
Easier conversion from PT to FT & more minimum hours for PT workers

5th week annual leave for all permanent workers from 1 Jan 2023
Better and fairer rosters: Unlimited shift swaps & Earlier outs (60mins)
Current parking arrangements protected
Better First-aid allowance & New Public Allowance
and more!
The Star Sydney
Union members at Star Sydney have secured a fantastic new EA!
The Agreement was voted in with an amazing 92% YES VOTE!
Members will enjoy UWU-won wages and entitlements like:
4.25% wage increase payable from now
5th week annual leave for all full-time and part-time workers
An enforceable EA with union rights
Increased minimum, guaranteed PT hours
Improved career progression
Pandemic consultation provisions, including financial support measures
Increase in paid parental leave from 10 weeks to 16 weeks for primary carer, secondary carers' 4 weeks of paid parental leave
Better rights around redundancy
Commitment to roster direct workers rather than contractors
…and more!
Well done to all Star Sydney members for their hard work.
Major casino operators Crown and The Star were some of the first companies to agree to 

paid pandemic leave

. We also won two weeks pay for many casino workers who were stood down.
Casino workers also won 

employer hardship funds and payments

 totalling millions of dollars for workers not eligible for the government wage subsidy, or experiencing other hardships.
During the year we kept the union together and strong while casinos were shut, and pivoted quickly to helping members with the 

practical support

 they needed in a crisis, e.g. help navigating Centrelink, information on financial assistance, mortgage/rent deferrals and more.
Amidst the COVID pandemic, we were able to secure a commitment from both The Star and Crown to 

end indoor smoking

 across all casinos by 2023.
And we started 

building the union

 at the new Crown Sydney casino – there are only a couple hundred workers there at the moment, but already two out of every three are UWU members.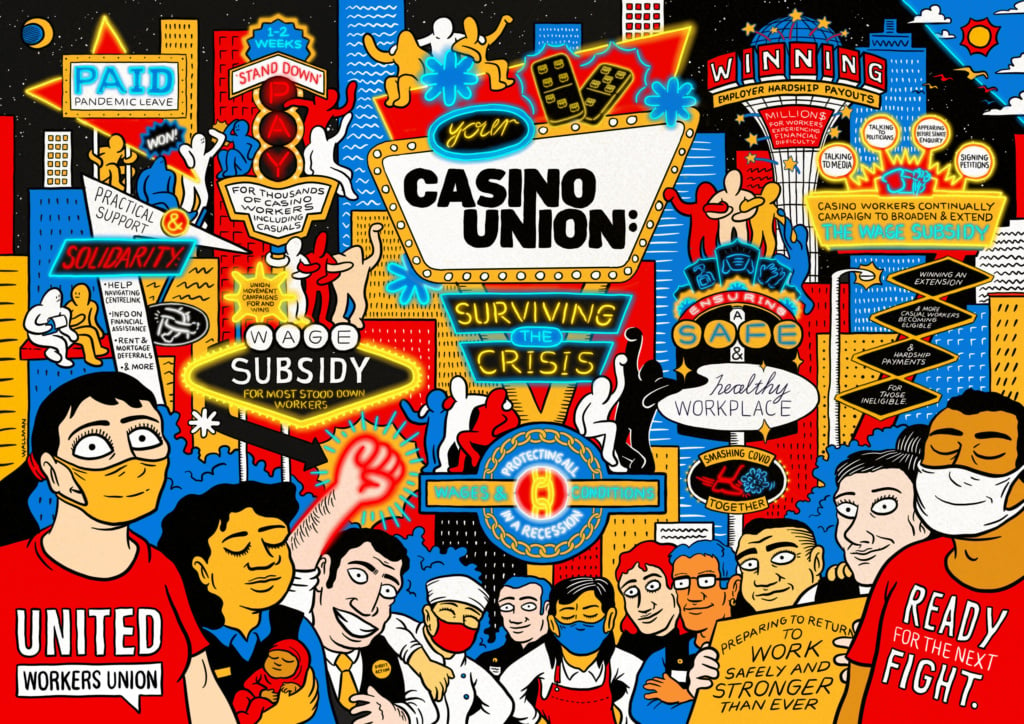 Join the union for Casino workers!
Subtitle
Some description text for this item
Standing together, we can change our workplaces.