Schools across Queensland are preparing for bargaining in 2022.
Bargaining for your new agreement is your big opportunity for your voice to be heard to improve pay and conditions in your school. The best way to have your voice heard is by joining your union and taking part in the log of claims survey.
The log of claims survey is your opportunity as a United Workers Union member to have your say on what is important to you. During October and November, your Organiser or Delegate will visit you in person to have you take part in this survey. 
If you were not working that day or could not make the meeting, you can take part in the survey online below.
The Log of claims surveys will only be counted from United Workers Members. If you are not yet a member, and would like to stand in unity with your fellow Teacher Aides and School Cleaners to fight for better outcomes, join your union today.
Eatons Hill State School had a number of big wins after working together to build power in their school.
With 85% membership coverage and three strong delegates representing them, Eatons Hill State School were able to fight for better conditions in their school. They won 136 hours of permanent SEP hours that then attracted the SEP allowance. Teacher Aides were also able to maximise their hours which made a huge difference to their lives during COVID-19.
Not only that, they won the right to consultation after six months of negotiating. Members say the culture of their school has shifted with better outcomes for staff after negotiating.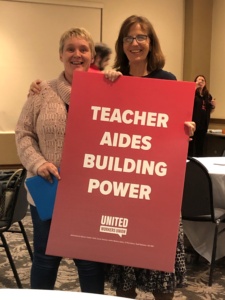 There are a range of benefits to joining your union, by joining your union today, you'll gain access to:
Trained union delegates and officials who can assist you in the workplace.
Regular updates on issues that affect you.
Union training and personal development opportunities.
Opportunities to network and build relationships with other workers in your industry.
Workplace advice and representation through your union
Membership is 100% tax deductible, you can find the full list of benefits of joining your union here.