It's time to fix home care.
 2021 is going to be a massive year for home care workers.
Now is the time to join together with your colleagues and take action to improve home care.
Here you can connect with fellow home care union members, and get involved in the campaign!
1
Time to care, skills to care
Clear entitlement to paid time in which to perform the scheduling and administrative duties required to effectively perform your roles
Paid and appropriate training
Fair and transparent rosters
2
Recognition and respect
A classification structure that recognises your skills, qualifications and experience.
New wage rates that provide the recognition and respect that care workers deserve.
Proper pay for higher duty appointments
3
One job for quality care
Protections that ensure part time workers can rely on consistent and fair hours of work, and are recognised for being on call or subject to changes in appointments.
Clear regulation of the use of broken shift arrangements.
Entitlement to travel allowances and travel time pay
4
A voice for fairness


A regular worker consultation meeting that allows for engagement and consultation with both the Union and your employer
Access to your rights, access for union delegates to speak with new workers and in team meetings
UnionSmart

– the app for home care workers
Working in home care can be isolating and confusing. It can be hard to find others who understand your work, and hard to know if you're being treated right. UnionSmart makes sure you're not alone.
Through the app, you can talk to your union delegates, get personalised advice to workplace questions, browse the library of hundreds of answers specific to home care, and find out how to get active in making home care fairer for everyone.
UnionSmart is constantly improving.The more questions you ask it, the smarter it gets. New questions and answers are added every week
Covid-19 Safety
Every care worker has the right to be safe at work, especially during the exceptional public health crisis that we find ourselves in now.
Your union has developed these safety standards as the baseline minimum care workers should expect and enforce during periods of COVID-19 outbreaks – as well as closely adhering to public health advice at the time.
Join your online community
It's Time To Care is our members-only online community. Here you'll find members-only events, and opportunities to connect with your fellow home care union members.
You can also join Home Care Workers United on Facebook, a group open to all home care workers in Australia.
Get active!
There are many opportunities this year to bring others along on the journey to win a real deal for home care workers.
Let us know how you're keen to be involved by filling in the form below.
Come along to a welcome call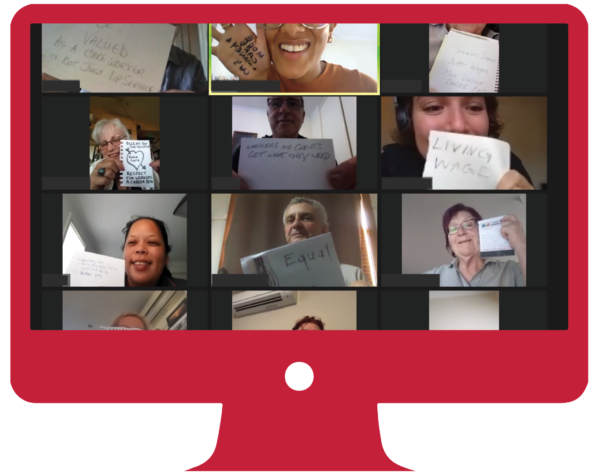 If you're a new member, we invite you to attend one of our monthly welcome calls (held online via zoom). This is a chance for you to meet other home care union members, and talk about the issues you care about.
Register for a welcome call: 
Got a workplace issue?
If you have a more complex issue that can't be resolved through UnionSmart, you can get in touch with our Member Rights Team for advice.
ADD YOUR SIGNATURE
ENDORSE THE HOME CARE DEMANDS
Share this with your friends:
STAND UP FOR HOME CARE WORKERS