One of Australia's largest Aged Care providers has agreed to pay staff two weeks of special "Covid19 leave" if they or their close family have to deal with the fallout from the coronavirus.
The measures apply to both permanent and casual staff, with the payments for casuals based on their last two-week roster period.
In addition, a major Western Australian Aged Care provider, Brightwater, has agreed to pay their staff during Covid19 leave.
"United Workers Union wrote to Aged Care providers putting our demand for an extra two weeks paid leave for Aged Care workers, because they need their employers' support if they are going to keep providing quality care," Carolyn Smith, United Workers Union National Aged Care Director, said today.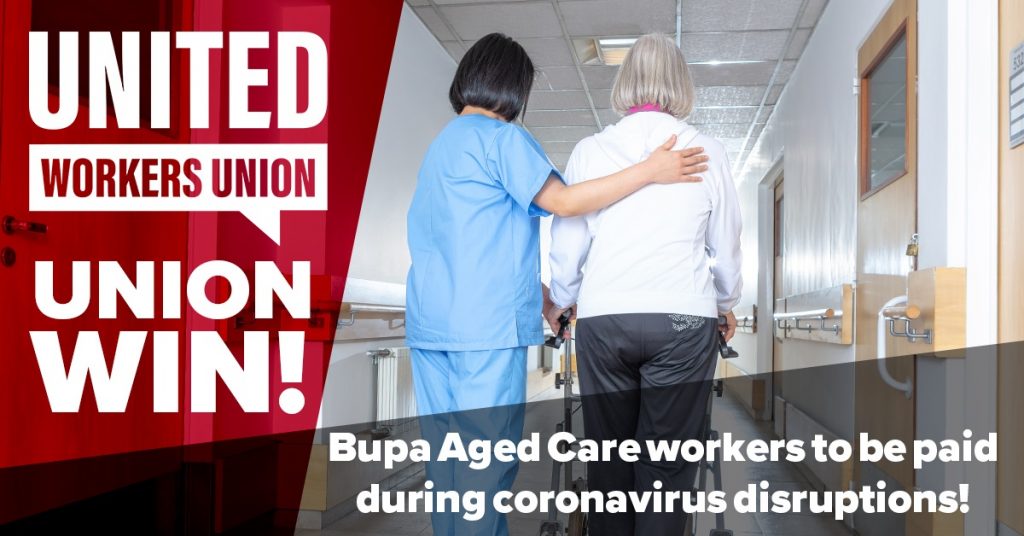 "It's great to see an employers as big as Bupa and Brightwater committing to two weeks paid leave for their staff if they or their family have to self-isolate due to coronavirus.
"By looking after their staff, they are going to be looking after their residents who rely on staff to give them the quality care they need in these difficult times."
Ms Smith said Bupa and Brightwater set an example that other employers must follow if they wanted to minimise the impact of the coronavirus crisis on their staff and residents.
"Given Bupa and Brightwater have recognised the merits of looking after their staff, it's now time for other aged care providers to follow suit," Ms Smith said.
"They should not be relying on low-paid and often casual staff to dip into savings or – if they are lucky enough to have permanent jobs – their personal leave to deal with this unprecedented crisis.
"Aged care workers are going to be on the front line of this crisis, and they require the support of their employers to provide the quality care residents expect and deserve.
"United Workers Union is calling on all employers to treat their staff fairly and introduce at least two weeks paid leave if they are affected by the impact of the coronavirus.
"Indeed, in Western Australia and Queensland some public sector employees are being offered an extra 20 days paid leave if they or their families are affected."
Ms Smith said paid Covid19 leave was a minimum standard employers should be adopting, alongside providing all necessary personal protective equipment for staff members working in aged care facilities.