MEDIA RELEASE
Lonsdale Street hospitality businesses fail to commit to stamping out sexual harassment and wage theft
*** Lunchtime protest and launch of Respect is the Rule MIDDAY TODAY ***
Hospo workers will march along Lonsdale Street today, calling for an end to sexual harassment and wage theft in hospitality.
At the end of the march, workers will officially launch the Respect is the Rule campaign in Canberra. Hospo workers decided to launch the campaign following recent meetings where dozens of workers spoke about their experiences of wage theft and sexual harassment while working at venues along Lonsdale Street, including at Binny's Kathitto and Knightsbridge (issues have been lodged with small claims & ATO). The workers elected a union delegate and decided that the first step they would take was to write to every employer on the eat strip.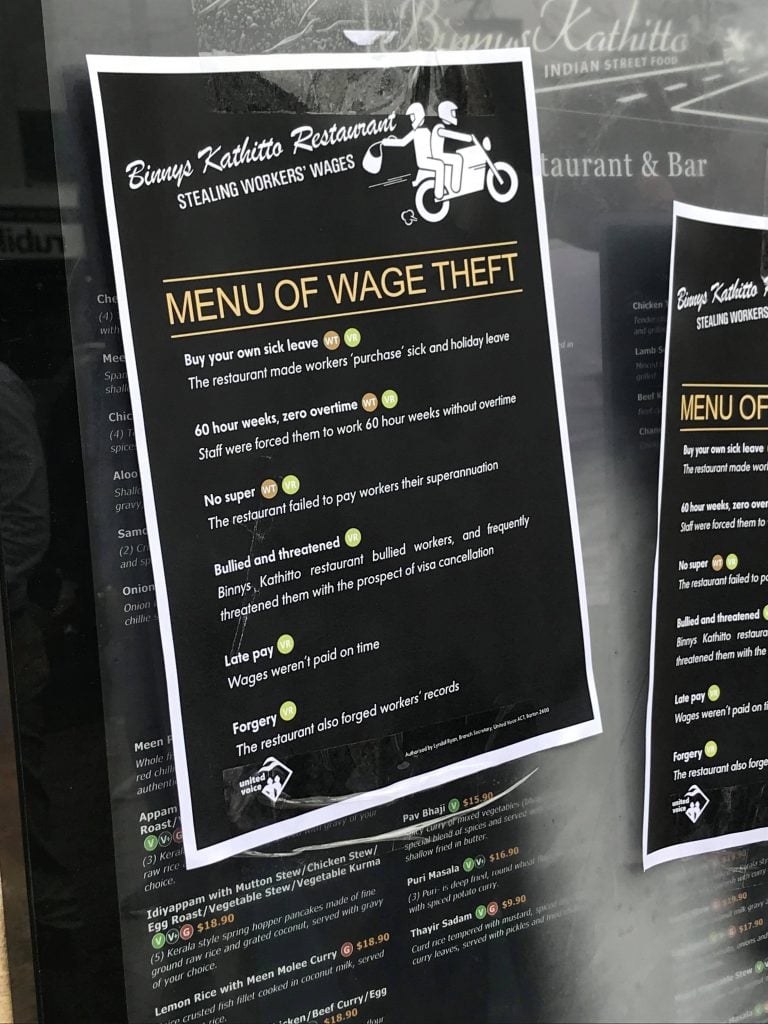 Hospo workers delivered a letter to every single employer on Lonsdale Street asking them to sign a pledge to:
Take a zero tolerance stance on sexual harassment
Pay hospitality workers at least the award rate
Display the contact details for their newly elected union delegate.
CIAO Café signed up immediately, but so far, no other employers along Lonsdale Street have committed to the Respect is the Rule pledge, leaving the workers extremely disappointed at the state of affairs in the hospitality sector in Canberra.
Lonsdale Street is home to Canberra's rainbow roundabout, is hosting Yes!Fest on the weekend, and has a reputation for being progressive and forward looking. But when it comes to taking a stand against wage theft, worker association rights and sexual harassment – with the exception to CIAO Café – employers on Lonsdale Street have not stepped up.
Lyndal Ryan, United Workers Union ACT spokesperson says, "It's time for Canberra's hospitality employers to show a commitment to their workers. Only one employer has signed on to take a zero tolerance stance on sexual harassment. We congratulate CIAO Café for showing the way and we urge Canberrans to support this café and visit it as often as possible.
"Harassment is widespread in the hospitality industry. For thousands of workers, this is a regular part of working lives – and it's got to stop. Employers need to know that the moral and business case for action on this issue is undeniable, and to fail to show any interest in committing to this campaign is beyond poor, they are not showing respect to their workers.
"The campaign also asks for a commitment to paying award wages, to have no response to this is disappointing. We have far too many stories coming in to United Workers Union of harassment and underpayment in hospitality venues in the national capital. It needs to stop, wage theft is illegal. This is just the start of United Workers Union lifting the lid on these issues in the ACT."
Sabrina, the union's Lonsdale Street delegate says, "We have a long way to go in making Lonsdale Street a safe precinct for hospitality workers – to stamp out wage theft, sexual harassment and bullying in the industry. So I'm proud to stand with the Respect is the Rule campaign, and I look forward to welcoming even more workers to stand with us in the coming months."
United Workers Union has been lifting the lid on wage theft in hospitality and recently went public with the shocking case of exploitation of workers at Lonsdale Street restaurant Binny's Kathitto. The wage theft case is ongoing with the workers still fighting for their entitlements, the restaurant has since closed.
As a comparison on taking a stance on sexual harassment in the sector, in Melbourne dozens of venues have signed on to commit to zero tolerance of harassment. United Workers Union members remain hopeful of seeing a similar level of commitment from ACT employers.
**** RESPECT IS THE RULE HOSPO LAUNCH 12:00PM TODAY ****
WHEN:            12:00pm, Wednesday 13 November 2019
WHERE:           Starting at the Mandalay Bus on Lonsdale Street, protestors will march to the Rainbow Roundabout and finish at the Ciao Café to celebrate Ciao Café signing up to Respect is the Rule
WHAT:            Loud march against harassment and wage theft in hospo in the ACT. Hospo workers, Young Workers Centre activists join United Workers Union leaders – National Secretary Tim Kennedy and National President Jo-anne Schofield (this is the first action of the newly formed United Workers Union in the ACT)