UWU member workshops: Leave entitlements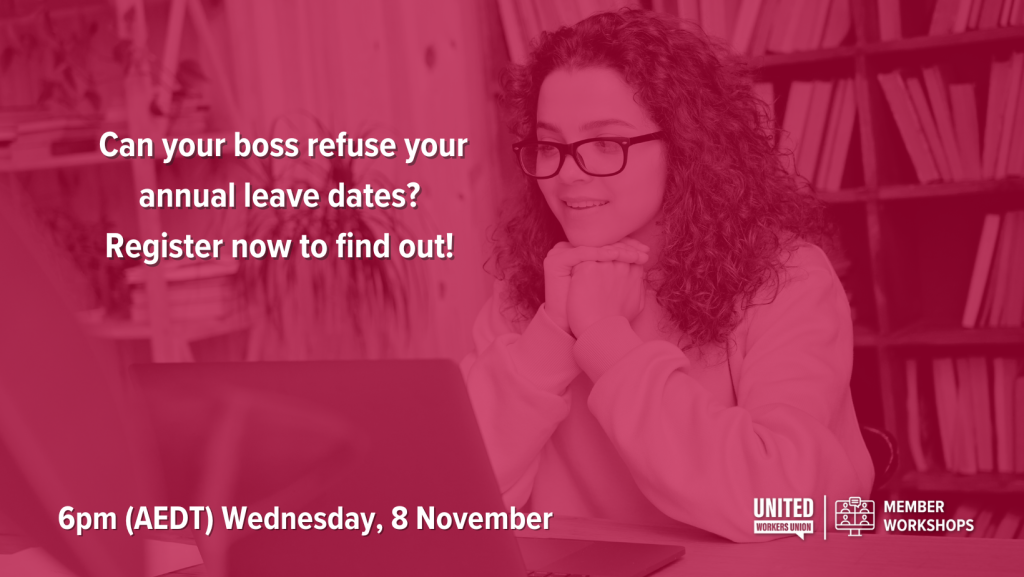 In order to stand up for our rights, we need to know what they are!
If you know all the different types of leave that you can use for different purposes, you can make sure you get what you are entitled to. It's also important to know what type of leave to use, when so you can avoid any unnecessary disputes in your workplace.
So, on Wednesday, 8 November at 6pm (AEDT) we're holding a special, online members-only workshop about your leave entitlements.
The leave entitlements member workshop will cover:
The various types of leave you're entitled to and when you can access it
Common issues union members experience when trying to access leave
How to avoid or resolve disputes with your employer about leave
You can also submit your own questions on registration or during the session.
Register now to secure your spot!
---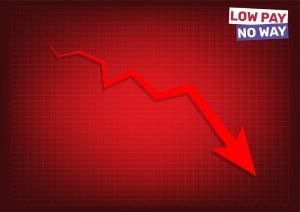 BLOG: Why Australia's minimum wage is broken
You shouldn't be working full-time and still not have enough money to live, right? Surely, the whole point of the minimum wage is to avoid anyone being put in that position. But what UWU members are saying is that too many Australians on the minimum wage and award wages simply don't get enough money to make ends meet.
That tells us that our minimum wage system is broken.
How did we get to this point, and where do we go from here? To answer those questions, we've written a two-part series of blog posts. In this first article, we look at the history of our minimum wage system in Australia. In our second article, coming soon, we will explain what we should have instead.
What's clear is that Australia has lost its way. There's a gaping chasm between workers on low pay and those in the middle and it's getting wider. Meanwhile, corporate profits are booming and CEOs are enriching themselves with mega-salaries and eye-watering bonuses. We must turn this around.
And if you're wondering: does this matter to me? Yes, it does. Simply put, when we raise wages at the bottom, everyone benefits; because it means union members everywhere can push for more. A rising tide lifts all boats. Let's stand together and demand a living wage for every worker.
Read the blog here. Want to see how Australia compares internationally? Check out our 2023 Minimum Wage World Cup!
---
Get Discounts Through our Collective Buying Power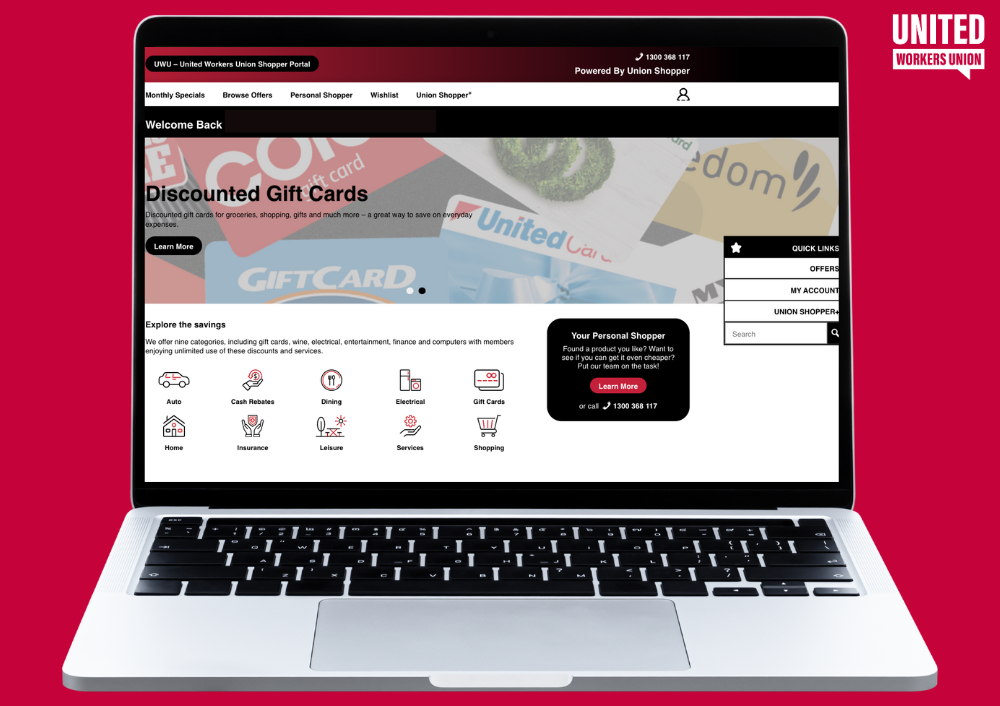 As an UWU member, you can save time AND money by signing up to Union Shopper+!
All you have to do is register your credit or debit card on the site. Then, when you buy items online from participating retailers, you'll automatically receive cash back! Find cash back offers on shoes, fashion, homewares, technology and more.
Just as we harness the power of workers united to win in our workplaces, we're using the power of our collective to reduce prices on gift cards, professional services and goods with Union Shopper. Register now to start saving!
---
Victorian Dairy Workers Secure Historic Victory!

In a groundbreaking 48-hour strike, 1400 workers from Saputo, Fonterra, and Peters Ice Cream forced significant wage increases.
Negotiation Highlights:
Saputo workers won a 5% wage hike in the first year and at Allansford they added a new classification level, bumping some workers up by an extra $1.20/hour.
Fonterra employees also received a 5% wage increase in the first year, along with a $500 bonus.
Peters Ice Cream also secured a 5% wage offer.
12-Hour Shift Recognition:
Previously, personal leave was calculated based on 8-hour shifts. The new agreement ensures that personal leave matches shifts up to 12 hours, offering fair time off for those working longer days.
Additional Wins:
Saputo and Fonterra workers secured 5 days of emergency leave for community services like firefighting.
Workers across all agreements also won many other improvements, such as a 34% loading on long service leave.
The agreements set a precedent for broader industry changes, offering the potential for further gains in 2026.
This isn't just a wage win; it's a major leap towards a secure and sustainable future for the dairy industry and its communities.
This strike was completely delegate-led and the community backed them in. The support was overwhelming, with local businesses and residents joining the cause. This combined force epitomises the United Workers Union ethos: bigger, stronger, and fiercely united. This strike is a testament to our collective strength. We are more than just a union; we are a community, standing by each other, regardless of industry or occupation. Show your support for dairy workers here.
---
New UWU Report Reveals Workforce Crisis in ECEC

Thousands of centres have revealed the impacts of the escalating workforce crisis on their day to day operations in a new United Workers Union report.
The results show that, despite millions of dollars in additional Federal Government subsidies to make early education more affordable for families, the crisis has only deepened. There's no time to waste. The Federal Government needs to commit to funding a real pay rise for educators.
To read the full report and an analysis of findings for your state, go to: https://bigsteps.org.au/centre-crisis-report/
Or read all about it here.
---
UWU's Voice Campaign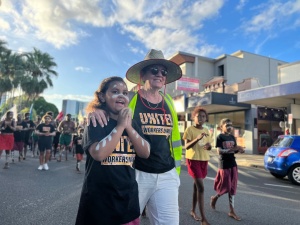 UWU members were strong and proud in our support for a YES vote in the Referendum to recognise Aboriginal and Torres Strait Islander peoples in our Constitution and establish a Voice to Parliament.
Hundreds of delegates first answered the call of our First Nations members in 2022 when they asked our Union to campaign with them to win this change. We express gratitude to them for their leadership.
Through our efforts over many months we showed that UWU is a union where members will stand with one another in solidarity and in unity. Together we made over 15,000 phone calls, knocked on thousands of doors and hundreds of members had countless conversations in our workplaces and communities.
This change was big and ambitious. That did not stop us from having a go. It was never going to be easy, big change never is.
The result will leave many UWU members for whom this was so important feeling very disappointed.
We will continue to stand with Aboriginal and Torres Strait Islander people and fight for racial justice. We will keep fighting until all Aboriginal and Torres Strait Islander people have the same health, education, employment and other opportunities that non-Indigenous Australians have.
---
Aged Care and Disability Support Members Taking Political Action
UWU members, Suzana, Sophie and Dharminder took to the stage at the South Australian ALP state conference to advocate for political change. They spoke about:
Winning fair wages for aged care workers in laundry, maintenance, cleaning and catering.
Extending portable long service leave to workers in female-dominated industries.
Getting for‑profit companies out of our public hospitals.
Here's a snapshot of what they said to conference delegates.
"I'm a personal care worker who's been in aged care for 29 years. For a long time, our industry has been defined by low wages, short staffing and poor working conditions. During years of neglect under the previous federal Liberal Government, we fought hard to bring attention to the crisis in our sector.
"With the federal Labor Government supporting us in that fight, people are beginning to listen. Back in February, the Fair Work Commission recognised that our work has been undervalued for decades and increased wages by 15 percent for workers like us who provide 'direct care' to residents.
"This has made a big difference, but members of our team who work in cleaning, catering, laundry and maintenance have missed out. It's not fair that support workers have been left behind, when it would be impossible to provide quality care to residents without their essential work.
"In reality, the support workers on our team see residents every day – they form relationships and they give comfort and care to residents. Just like us, aged care support workers need a pay correction to recognise the essential work they do for older South Australians." – Suzana
"Portable long service leave was brought in by Labor back in 1987 for construction workers, which recognised the fact that most construction workers didn't stay with one employer for ten years. As a home care worker, in a female-dominated sector, myself and my comrades in aged care, disability, and cleaning are still waiting for portable long service leave.
"We're working in sectors where there is a high turnover of workers, high rates of casualisation, and high rates of moving across employers while still remaining in the same sector.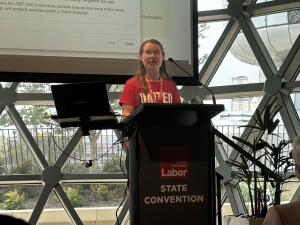 "I've worked in residential aged care for 12 years across two different employers, but never even reached pro rata. I now work in home care, where many of us are casual,and we're continually having unpredictable and inconsistent hours. The elderly that we provide care to can have sudden changes in their health, and no longer require home care. We often suddenly lose hours and many of us must work for more than one employer just to make ends meet.
"We are struggling. The aged care sector is in crisis, and us workers need more reasons to keep working in these challenging sectors, as well as incentives for new workers to come into the job.
"It's time to demonstrate Labor's commitment to addressing the gender pay gap by expanding portable long service leave to make sure that workers in feminised sectors have access to this fundamental workplace entitlement. – Sophie
"There is an impending workforce crisis if the State Labor doesn't address the low-paid, valuable and essential work performed by home care, aged care, and disability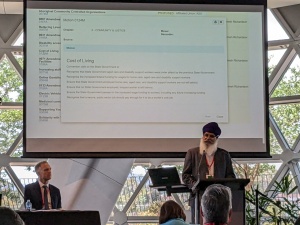 support workers. Without these skilled workers, many of South Australia's most vulnerable people, especially those in remote and rural communities, will be left without the necessary support they need. A secure, public-sector job should pay enough for it to be a worker's only job." – Dharminder
---
Educators Taking Political Action
UWU members in South Australia attended the state Labor Convention and had direct input on setting policy to recognise early childhood educators as educators and delivering a pay rise.
UWU members like Rebecca took to the stage to advocate for political change.
"I'm the Director of an amazing long daycare centre in Hillbank. Having worked in ECEC for 28 years, I've seen my fair share of educators leave the sector, and this just gets worse every year. In the past 12 months at my particular service, I've lost three educators, my amazing Assistant Director, and two teachers. One teacher resigned just two days ago, and I now have to apply for yet another exemption and advertise yet again – all of which comes at a huge cost to my non-for-profit service. I'm worried, because my last advertisement gave me just one person to choose from.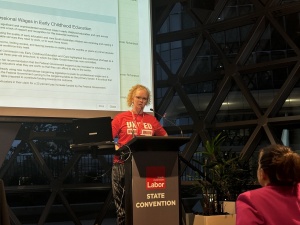 "I hear countless stories from Directors who are unable to fill positions, which means they are having to cap numbers, limit space for families, and leave them sitting on wait-lists for months. Some families may never get a space in a preferred service.
"I was excited to hear about the South Australian Government's decision to run a Royal Commission into ECEC, and I welcome the amazing commitment to preschool for three-year-olds. This will be fantastic for South Australian children – my concern is the ability to have a workforce to run this program.
"The workforce crisis is real and is crippling our sector. The only way to address this crisis is to pay educators what they deserve so they stay in the sector.
"I'm very excited because United Workers Union members are already using multi-employer bargaining legislation to push for better wages and better standards across the sector, with the Commonwealth Government coming to the bargaining table as the primary funder. Having been fighting for so long, this is just a dream come true. It is critical that the Commonwealth Government comes to the table prepared to contribute to this funding."
Early Educator Mark also spoke of the need for reform in the sector. They were joined by Mira El Dannawi, a UWU member and long time educator before becoming a Member of the Legislative Council this month.
---
Lighting the Way

A welcome day on the annual calendar for many Queensland Teacher Aide members, this year's Lighting the Way conference on Saturday 14 October did not disappoint!
With a back-to-back schedule, this year's event made history in several ways, selling out in under one short week to almost 550 Teacher Aides from across the state.
Attendees were rewarded with a jam-packed day at the BCEC, including workshops and presentations for Teacher Aides to learn and develop knowledge from industry experts. There were many highlights throughout the day, including a standout keynote presentation by actor and comedian, Steph Tisdell.
It's fair to say that Lighting the Way once again ticked lots of boxes for UWU's amazing Teacher Aides – learning, growth, laughter, friendship and fun. The Queensland education team can't wait to welcome members back next year, for the hottest ticket in town – Lighting the Way 2024!
Click here to watch a clip shown at the conference.
---