The Queensland state government is only offering a 2.5% pay rise for all public sector workers.
A fair wage rise is essential for all new public sector agreements and we are determined to see the government improve its offer.
Unions have joined together to campaign for fair pay rise.
We can't afford not to take action. And we need to be in this fight for what is fair!
The government needs to hear from you!
Tell Treasurer Cameron Dick that praise for public sector workers is not enough – we deserve a fair pay rise!  
* See below the letter you can send after you press the "I want to take action" button. You will NOT be sending an email by pressing the "I want to take action" button.
* Note to Qld public sector workers: Sharing content from your union through email and social media is NOT a disciplinary matter.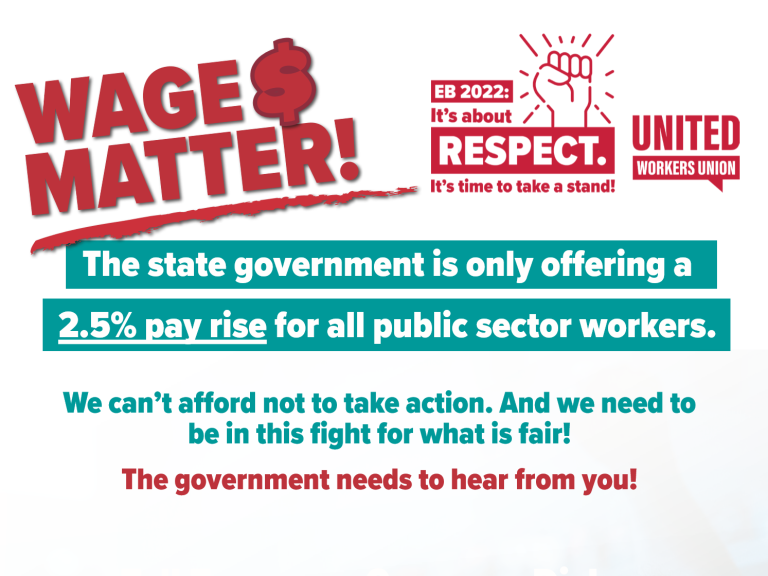 Email to Cameron Dick, Treasurer, Queensland
Dear Treasurer
I'm a public sector worker, and your government's wages policy has capped my wage increase to just 2.5%.
I deserve better.
With inflation above 5%, this won't be enough for me to keep up with the rising cost of living. It also doesn't recognise or reward the valuable contribution I make to my community.
I'm one of thousands of workers who have helped keep our state's essential services going in the face of unprecedented demand – from teacher aides and school cleaners to paramedics, patient transport officers, and radiation therapists, emergency medical dispatchers, radiographers, sonographers, dentists and dental assistants to pharmacy workers – and so many more.
Spare me the lip service – your government must genuinely value my work by lifting your wages policy above 2.5% and offering me a fair pay rise.
Kind regards
(Your first name will go here).