4 Reasons You're Better Off Union
Unions have a long history in Australia. The first Australian union was formed in the 1820's, and between 1850-1869 there were around 400 unions formed in Australia. In fact, United Workers Union itself is a successor of the Watchmen, Caretakers and Cleaners Union, which was first established back in 1910.
Back then unions fought for the basic rights we sometimes take for granted today, like an 8-hour working day, weekends, overtime, annual leave, sick leave, long service leave, collective bargaining rights, universal superannuation, redundancy, health and safety regulations, penalty rates, and so much more.
These rights have shaped the lives of working Australians for generations. But there is still so much left to fight for. Like the fight for increased superannuation, domestic violence leave, and gender equality. And the fight against wage theft, unfair dismissals, casualisation, automation, and insecure work – issues that are unfortunately still common, or on the rise in Australian workplaces.
That's why unions exist, to help workers come together and use our collective power to demand fairer conditions and better pay. Unions give workers a voice to demand respect, and a better working life for all.
When you're a union member, you're part of a national movement with a long history of standing up for what's right. But there's also so many more reasons you're better off being union.
1. Union members earn more money
A 2020 release by the Australian Bureau of Statistics revealed that, on average, trade union members earn 32% more than non-union workers. This goes as high as 60% more for community and personal service workers, and 44% for technicians and trade workers. Why is this? Well, your union fights hard to make sure your bosses are paying the award wage, that the award wage is fair, and stands by you when it's time to collectively bargain for a new workplace agreement. More on that in the next section.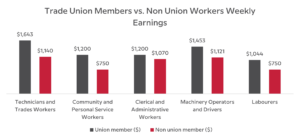 2. Ability to collectively bargain for better pay and conditions
Collective bargaining is the process where employers and employees negotiate the terms and conditions of an enterprise agreement. These agreements typically last several years and set out conditions like pay, leave entitlements, future wage increases, and more. There is strength in numbers – when we negotiate together, we can drive a hard bargain.
If you and your colleagues are members of your union during this process, you will get access to a union official who will serve as your bargaining representative. Union bargaining representatives have tons of industry experience and ensure that you get the best deal possible. They will educate you and your colleagues on industry standards, organize team meetings, and help if you choose to take industrial action during the bargaining process.
Collective bargaining can be hard work, but it's always worth putting in the effort to ensure you're treated fairly. Look at McCormick's workers, for instance, they spent 5 weeks on strike to fight against a 0% pay rise (for over 5 years!) and a slash in conditions. The result of their actions against the company? A 9% pay rise over 3 years, a $5,000 sign on bonus, and they retained all conditions the business wanted to cut. There's power in coming together and fighting for what you deserve.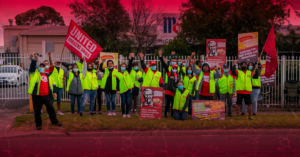 3. You get opportunities to volunteer and step up as an activist
Joining your union opens heaps of doors for you to step up as an activist. We offer a variety of training programs, like Health and Safety courses and Building Power programs, and many of our delegates are entitled to paid training leave to attend these courses. Learn more about our upcoming training and events here.
We also have a variety of campaigns and projects that we encourage our members to take part in. This includes campaigns against climate change, sexual harassment at work, gender inequality, and campaigns for indigenous recognition. You can speak to the Member Services Team to learn more about how you can get involved.
4. You get access to legal advice and services
When you face poor treatment at work – like an unfair dismissal, safety issue, or harassment from management – it's important to be union. At worksites across the country, UWU Delegates, Leaders, Health and Safety Reps, Industrial Experts, and, Lawyers have your back. When you join your union, you will get access to the membership phone line, which you can call if you're facing issues at work. The team will direct you to the services you need, who can assist you with representation and advice.
And that's just the start. Joining your union is joining hundreds of thousands of workers coming together to fight for a better deal at work, and a fairer Australia.
Click here to join today.