Your Union for Early Childhood Educators
We educate your children.
Early childhood educators are the backbone of our society. We educate your children and develop the skills they need for the future. We also make it possible for parents to go to work. Without us, society could not function, yet this is not reflected in our pay. Together as union members we are the driving force behind the Big Steps campaign to secure professional pay, respect and recognition. The more educators who are in our union, the bigger and louder our voice is.
United Workers Union is our union for workers in Early Childhood Education and Care.
UWU represents over 150,000 workers from all walks of life across Australia.  Throughout our history, we've shown when working people come together, we win.
We fight hard for jobs you can count on, decent pay and conditions, and respect at work. Your union is here to help you, we provide a range of quality services, benefits and representation when you need it.  
TAKE ACTION FOR EARLY EDUCATORS
Follow
Big Steps
on FACEBOOK
VISIT THE
BIG STEPS
WEBSITE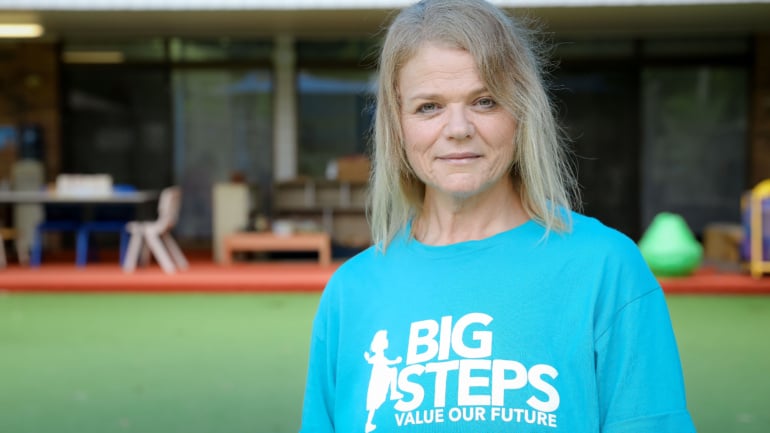 BECOME A DELEGATE
Stand up, Speak out.
A union delegate is another union member just like you. They have a job to do every day, and they answer to the same management that you do. The key difference is that a union delegate has training, tools and protections to help you and other members solve problems at work!
Join the Union for ECEC Workers
Standing together, we can change our workplaces.
media releases + campaign updates
recent news:
The United Workers Union (UWU) welcomes today's announcement of additional funding for the early education sector, but the Federal Government has included a raft of JobKeeper-style loopholes. "The Federal Government's announcement of funding for centres has learned no lessons from employers rorting previous funding like JobKeeper," said UWU ECEC Director Helen Gibbons. "The entire sector has been calling for additional funding for centres to survive during lockdown restrictions. Today's announcement is no doubt a welcome relief for many – but the fine print has no guarantees this funding will be used as intended. "Once again, so-called 'critical workers' in early education have been treated like an afterthought. "By not linking funding to wages, the Government has failed to close loopholes we've all seen exploited by large greedy companies. "Providers across the sector, both profit and not-for-profit, have been crying out for additional funding. Now that it's here, employers need to stand up and commit to using this new funding to support workers' income and employment. "This means no cuts to hours or forced taking of leave. "Providers need to publicly commit to using this funding as intended, to maintain educators' wages. If employers try to do the wrong thing, educators will hold you to account. "United Workers Union calls on the Federal Government to close the loopholes in their new funding announcement to ensure every employer in the sector does the right thing. "This new funding must be tied to wages to provide real support for the early education sector." ENDS Media Contact: 1300 898 633, 
[email protected]
Today the United Workers Union (UWU) has released a ground-breaking report showing the early education is on the brink of crisis. In the largest survey of its kind, nearly 4000 current and former educators revealed they are leaving the sector at record levels because of excessive workloads and low pay. Over a quarter of current educators reported they plan to leave the sector within the next twelve months, and of those educators who do plan to stay, almost half (46%) think about leaving 'all of the time' or 'most of the time'. In contrast, projections show the sector needs 40,000 additional staff by 2023 to meet growing demand for early learning services. "The message from early educators across the country is clear: they are at breaking point.  There is no early childhood sector without early educators, and they simply can't afford to stay and hold it together anymore," said UWU's Early Education Director Helen Gibbons. "The pandemic has exacerbated an existing problem, with job vacancies close to doubling compared to pre-COVID levels. High workload because of increased understaffing is pushing more and more educators out of the sector. The report Exhausted, undervalued and leaving: the crisis in early education also found: 70% of educators surveyed said they 'always' or 'often' worry about their financial situation. 81% of centre directors say they have had difficulties in attracting and recruiting staff. 92% of educators told us 'under-the-roof' ratios compromise the safety and wellbeing of children. 65% of educators report that their services are already…