Thousands of health workers in Western Australia have won a decade-long fight against healthcare privatisation today, with the McGowan Government announcing key Fiona Stanley Hospital services would be brought back into public hands.
United Workers Union – the union for hospital support staff including cleaners, catering staff and orderlies – welcomed the winding back of Serco's $4.3 billion hospital contract, which would deliver better jobs for more than 600 workers and better care for the community.
Health worker and union member Phyllis de Gois was among thousands who stood together and spoke out against the privatisation of health services in WA.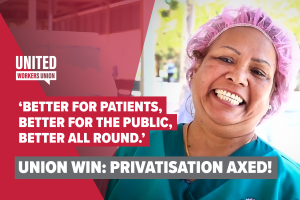 "I am thrilled about what our campaign has achieved – it's better for the patients, better for the public, and better all round," she said.
"The hospitals we work in belong to the community. We never want to see a government try and outsource our public health again."
United Workers Union WA State Secretary Carolyn Smith said the move was a turning point for workers across the country facing threats of privatisation every single day.
"The courageous effort of our members to stand up and take a stand against the privatisation of health services has built the case for showing Serco the door," she said.
"The multiple failures of Serco show the risk of putting company profits ahead of the public good."
"This privatised system of cutting corners has left cleaners, caterers and orderlies demoralised and unable to provide the quality of care they know patients deserve.
"Today's decision is a victory for working people who stood up for the high standard of health care our community expects and deserves.
"Our members are pleased the State Government has listened and will bring hospital services under public control.
"This is recognition that privatisation in our hospitals doesn't work. It never has, and never will."
Serco is a multinational services company with an appalling track record in the health sector.
The union's members at FSH led the fight against Serco's financial mismanagement, understaffing and operational stuff-ups that marred its 6-year tenure with the hospital since it opened in 2014.
Some examples include:
– Parliamentary inquiries into Serco's management of FSH services found the contract was established with no cost benefit analysis, no assessment of clinical and other risks and poorly-scoped financial modelling.
– The initial project cost blew out by $330 million dollars, including $151 million in IT costs and paying Serco to run a hospital that had no patients.
– Senior Medical staff resigned from the Hospital due to Serco's delivery of 'non-clinical' services
– An 82 year old woman left for four days without food waiting for a medical test.
– Blood and bone found on surgical instruments that Serco was meant to have had properly sterilised .
– The contract meant that hospital porters "couldn't touch patients", requiring an additional 57 staff having to be hired to stop doctors fetching patients themselves .
– Worker's reporting having to sneak food out to patients because there was no funding to give them a dessert.
ENDS
Media Contact: 1300 898 633, [email protected]