AGED CARE VISA &
PATHWAY TO PERMANENCY
Start on your path to permanent residency!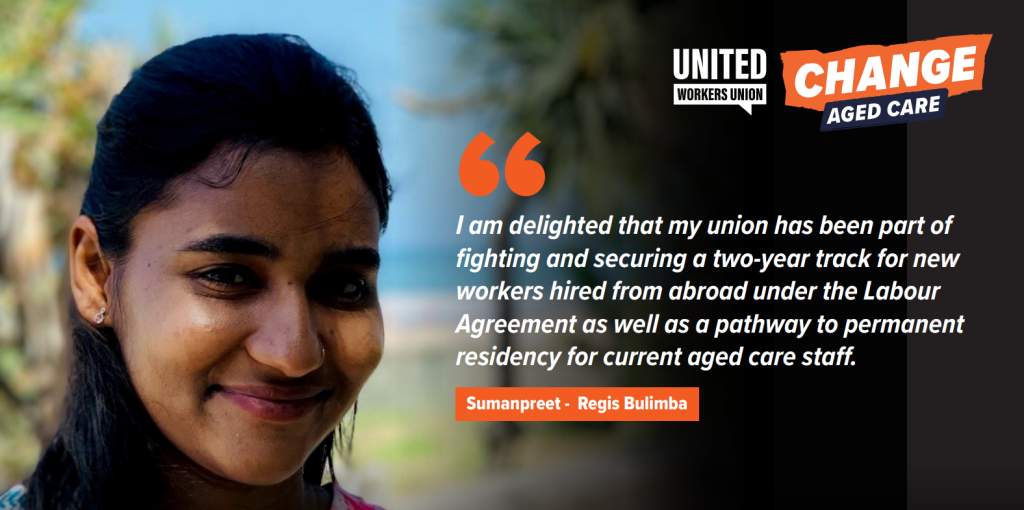 Direct Care workers who are working in Aged Care are now eligible to be sponsored for a permanent resident visa to address workforce shortages in aged care. 
United Workers Union has been working with employers and the Labor Government to create a new pathway for Carers to become permanent residents.
The new visa came into place in May this year. If you are in Australia and have 2 years work experience as a carer, you could be nominated by your employer to become permanent.
Only aged care employers who have negotiated with the union and have a Labour Agreement will be able to sponsor workers on to permanent residency.
There are two pathways to become a permanent resident under the new scheme:
There is a pathway for workers currently in Australia

There is a different pathway for workers living outside Australia
Send your employer a letter asking them to consider a Labour Agreement
Aged care workers in some places have already got together to let their boss know how important this is which has resulted in the employer reaching out to us.
aged care providers with existing labour agreements or currently in process:
These aged care providers have signed and or are signing onto the Aged Care Labour Agreement with United Workers Union. This list does not reflect all the discussions United Workers Unions is currently having with aged care providers wanting to sign an agreement with UWU.
Opal – National
Italian Village Fremantle, WA
Curtin Heritage Living, WA
MercyCare, WA
Menkawum Ngurra – Halls Creek People's Church Frail Aged Care, WA
Pinaroo Roma, QLD
Kaloma Home for the Aged Goondiwindi, QLD
Alzheimer's Queensland, QLD
Lutheran Services, QLD
Home Care Helpers, NSW  
Rubies Nursing Care, ACT
have all your questions answered - follow us on tiktok
Summary of Visa requirements
Onshore – Temporary Skills Shortage Visa (subclass 482)
Onshore – Temporary Skills Shortage Visa (subclass 482)
English language
IELTS 5.5 (or equivalent), and no minimum individual band scores
Qualifications
Certificate III, or overseas equivalent, or hold a higher qualification

Or have 12 months of full-time work experience in a direct care role in either disability or aged care
Work Experience
2 years full-time work experience or part-time equivalent before you're eligible to apply for PR (subclass 186)
Offshore – Temporary Skills Shortage Visa (subclass 482)
Offshore – Temporary Skills Shortage Visa (subclass 482)
English language
 IELTS 5.0 (or equivalent) with minimum component scores of 5.0 for speaking and listening, and 4.5 for reading and writing

The English language requirements for permanency is IELTS 5.5 with no component minimum
Qualifications
Certificate III, or overseas equivalent, or hold a higher qualification (skills assessment required)

Or have 12 months of relevant full-time work experience, or equivalent part-time experience (skills assessment required)
Work Experience
2 years full-time work experience in a direct care role before your employer can sponsor you for PR (subclass 186)
we're the union for workers on labour agreements