VOTE NO to BLUECARE's TERRIBLE DEAL

BlueCare is trying to buy off aged care workers with a bad deal. Your union's bargaining representatives say BlueCare can do better and workers should VOTE NO.
BlueCare is trying to rush through a vote on its terrible offer by tricking you and your co-workers with minor improvements which cost them almost nothing – including a slight increase to vehicle allowance for home care workers, a 3-week increase in parental leave, 2 days' extra compassionate leave for certain funeral travel, and minor improvements to promote diversity, equality and indigenous employment.
Your bargaining committee fought hard for these changes, but BlueCare have only agreed to give them at the expense of a fair wage increase and vital protections for all workers.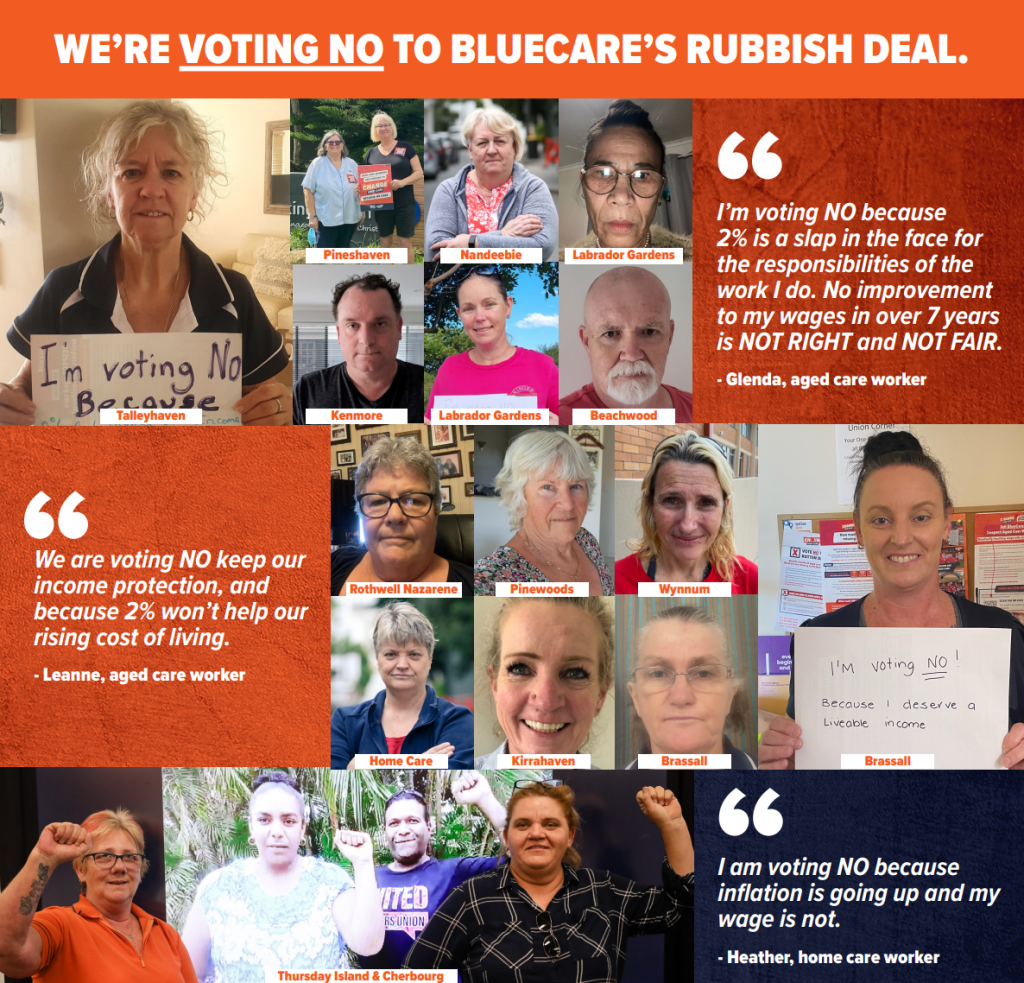 DON't BE FOOLED! HERE's WHY YOU SHOULD VOTE NO:
Not enough: BlueCare's miserable 2% pay increase is nowhere near inflation, while BlueCare gave executives a 30% pay rise last year. BlueCare also won't give you backpay if the agreement comes into effect before Christmas.
BlueCare wants to pay for its insulting offer by stripping you of income protection. Your income protection is vital – giving you the ability to continue receiving income if you become seriously ill and unable to work.
They can afford more: BlueCare is one of the largest and richest aged care providers in Queensland, yet it pays some of the lowest wages in the industry:
| | | |
| --- | --- | --- |
| For a Cert 3 qualified Home Care Worker or residential Personal Care Worker: | | |
| Ozcare | $26.83 | Paid from 1 July 2022 |
| Southern Cross Care Qld | $26.57 | Paid from 27 August 2022 |
| Anglicare Southern Qld | $25.96 | Paid from 1 Oct 2022 |
| Bluecare's current offer | $25.26 | Paid from 13 December 2022 |

Voting on BlueCare's miserable offer is open NOW until 3rd October. 
Make sure you STAND WITH YOU CO-WORKERS AND VOTE NO to BlueCare's rubbish deal. 
Contact your union organiser if you have any questions. 
Don't let BlueCare trick you into voting for their miserable deal. You deserve more. This is your chance to VOTE NO.
CLICK HERE TO TELL YOUR FRIENDS

STAND UP FOR AGED CARE WORKERS