TELL THE FAIR WORK COMMISSION ALL AGED CARE WORKERS NEED A PAY RISE!
The Fair Work Commission has delayed a decision on awarding aged care pay rises to whole sections of the aged care workforce.
While nurses, AINs, personal care workers, home care workers, Head Chefs/Cooks, and Recreational Officers/Lifestyle Officers have been awarded a 15% pay rise, no decision has been made yet on aged care support workers.
This delay is causing hardship and heartache to hard-working aged care support workers.
Worse, the delay in the decision tells workers the Fair Work Commission is open to a different treatment for different types of aged care workers.
Add your voice to this petition and tell the Fair Work Commission:
EVERY aged care worker needs this pay correction!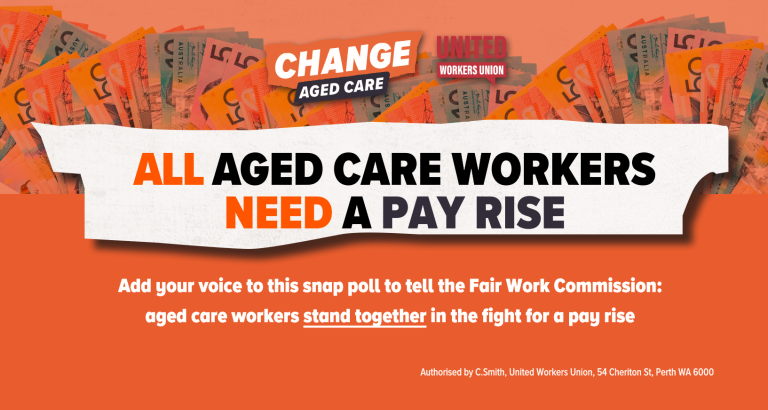 WHY IS THIS IMPORTANT?
It takes a dedicated team on every shift and in in every role to provide care for elderly in their homes and in facilities.
Laundry, cleaning, maintenance, domestic work and catering are essential to delivering the quality care residents and home care clients need.
More than 70 aged care workers gave evidence about why all aged care workers need a pay rise.
During the two years this case has taken, workers have been working their guts out keeping aged care and home care running during a once-in-a-lifetime pandemic.
Aged Care work has been historically undervalued, and low wages have failed to keep pace with cost-of-living increases over the years.
The fight to win an aged care pay rise is not over, and aged care workers will not stand for some workers to be left behind.
Find out which aged care providers have spoken out in support of all workers in aged care receiving this pay correction here. 
JOIN YOUR AGED CARE UNION